Meatless Lunch Option
Menu Update:
Every Friday, March 4th through April 8th, the alternate lunch item will be Morning Star Farms Chik'n Nuggets (vegan and vegetarian) with breadsticks.  If you have any questions, feel free to contact Ginny Scott, Director of Food & Nutrition, at
vscott@crprairie.org
.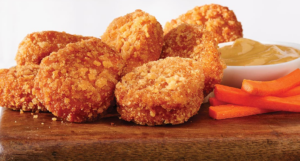 Serving size:
5 Nuggets have 22.5g carbs and 5g fiber.  Allergens: Wheat and Soy.